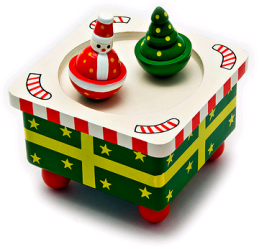 Weather you're having a a gathering or simply want a soundtrack for your family's celebrations, streaming Christmas carols and holiday music will add just the right touch.  Of course you can build your own play list of MP3s, or let the few songs of a CD loop or you can try the following:
Visit http://www.last.fm/listen/globaltags/christmas to start popular holiday music playing live.
Use a male-to-male stereo cable, like this one (can also purchase at Radio Shack or Office Max), to connect the audio out from your laptop to your home entertainment system or stereo.
You could also use the stereo cable above with a MP3 player, or iPod (adapter may be required) to play music through a larger stereo.
Another site to stream holiday music is http://www.accuradio.com/holidays/ – You have a bit more control over your play list, but they have a small credits section between each song.