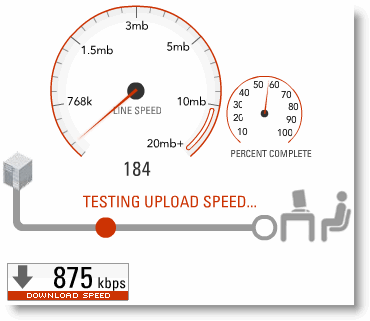 How fast is your Internet connection? Use one of the following two free services to check your speed now:
Note:   Your results will vary by time of day, if you have other programs running, and/or if you have more computers on your network.
Two speeds to know…
The Internet works in two directions, up and down, or upload and download.  When you browse the web or check email you're mostly using download speeds.  This is why the download speed is always much faster from your Internet Service Provider (ISP).  Upload speeds are becoming more important with new services like VoIP, online backups, and other services that SEND, or upload files.
Understanding your speeds…
Some ISPs refer to speeds in different ways.  This can get VERY confusing, fast.  To keep it simple, you will either see a kbps or mbps.  There are roughly 1000 KB (or Kilo Bytes) to a MB (Mega Byte).  If your ISP offers 3MB / 256KB, then you have 3000KB download and 256KB upload.  For comparison, dial-up Internet worked at about 50kbps.  Remember how slow this was? 😉

How do your speed tests compare with what you're paying for?