Contributed by Kevin Collins
Microsoft has developed and now testing a free anti-virus application for Windows.  The name of this generous piece of software is "Microsoft Security Essentials". Microsoft claims that this program was developed as a replacement for their subscription based anti-virus program known as "Live One Care" which was 49.95 per year.  If they can offer the protection, we may soon be free of annual subscription fees.
Screenshot: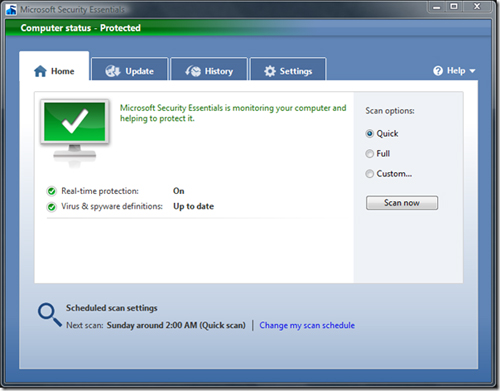 Security Essentials is currently in beta and full.  We'll let you know as soon as its open again for download.
For more information on Microsoft Security Essentials check out Microsoft's Blog Site or the Security Essentials site.
*UPDATE: Microsoft's link is closed at the present but Security Essentials can be downloaded via Softpedia.
In the news…
The Air Force will train more unmanned aircraft pilots this year than fighter and bomber pilots combined.  Wow… technology to the the extreme.   Continue reading…