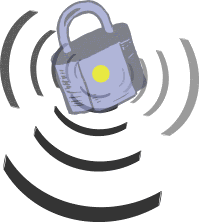 Question: One customer asks, "Can my neighbor read anything on my computer?"
Answer: If you have wireless service, you're opening the door for this potential. It's certainly possible.  However, the likelihood is slim.  Especially if you've done all you can to protect yourself.
Wireless Security
The best prevention is good wireless security.  Each year newer methods are developed to secure wireless networks (as well as more ways to hack them).  Currently, the best wireless security available on most home routers is WPA2.  Do you have to enter a key to connect a new device to your wireless? If not, you may not have security setup properly.
Link:  Basic guide to setting up wireless security
There are other ways to increase security besides a simple password.  Ask us or your technology consultant for more information.
Tips for the Road – When traveling and connecting to new networks, keep these in mind:
Never connect to an unsecured network
Ensure website's prefix begins with https:// (notice the S) when transferring secure data (banking, online purchases, etc) or look for the lock symbol
Always use anti-virus and firewall software
Keep your operating system (Windows, Mac, etc) up to date with the latest updates from the manufacture
Note!
Just because you've done all you can, simply having wireless or even Internet access makes you vulnerable.  Nothing is 100% secure.

In the news…
Back to school tax free weekend is coming up.  Does your state participate?  South Carolina's is Aug. 7-9, 2009.  See complete state guide here.