A picture is worth a thousand words, they say.  Often there are times we need to share a picture, or screenshot, of our desktop computer.  Maybe it's to show a friend something, for print material, or to show your IT support (*hint*) what error message you're getting.
1.  Windows Vista,  my second favorite method,  easiest method,  free:
Windows Vista has a "snip" tool that really makes it dead simple.  Click Start, type "snip" and hit enter.


2.  All versions of Windows, third favorite, easy, free:  (what *most* will use)
Simply press the PrntScrn button at the top right of your keyboard.  Open your favorite image editor, click on the Edit menu and click Paste, to get your photo.  Or, create a new email message, Edit, Paste.

3.  Professional, but not free, my favorite
SnagIt is a professional application that allows you to crop, resize, highlight, draw arrows and much more right within its program.  You can download a free trial, or watch a video tutorial at http://www.techsmith.com/screen-capture.asp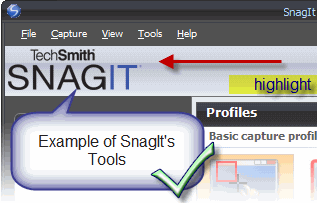 For your Mac: http://guides.macrumors.com/Taking_Screenshots_in_Mac_OS_X