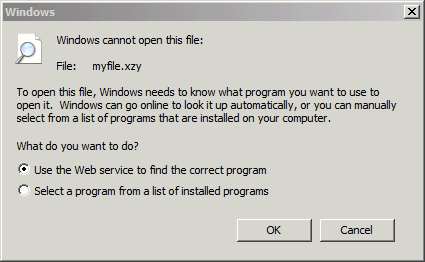 Sometimes you get a file you can't open. We're often asked to help open a file that doesn't work, like the above screenshot.  Openwith.org answers that question and provides free alternative software you can use.
Learn more…
All files are named with a period and then a few letters thereafter.  This is called the file extension.  For example, a Word document is .doc.  An Excel spreadsheet is .xls.  These letters after the period define which program opens the file.  Pretty smart eh?  The problem comes in if you don't have the application installed needed to open that file.  Use Openwith.org to find free software to open your files.
Openwith.org only features free options.  For complete searches, use filext.com.
Advanced user only….
Honestly, the extra step of having to choose to specify the application you want to use is annoying.  Here's how to disable it (read the comments section for Vista instructions).
In the news…
The latest version of Microsoft's browser, Internet Explorer 8, is now available for download.   I still highly prefer and recommend Firefox.  As does the rest of the world.