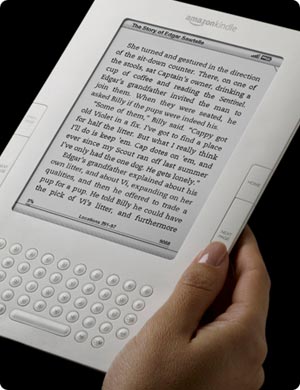 Amazon's Kindle made my top ten list of gifts last year, but I don't think it got the attention it deserved.  Now, Amazon announced the new and improved, Kindle 2.
What is Kindle?
Kindle is an electronic book reader.  I was highly suspicious until I held one for myself.  The text is as clear as reading a book, and doesn't look like a computer screen at all.  It's easy on the eyes and at just about 10oz., a pleasure to read.  In 60 seconds, wirelessly download your book from hundreds of thousands of titles available at half the cost of the printed alternative.
Why choose Kindle 2?  Features include…

No cables to use, or software to install
3G cellular wireless Internet (free)
Built in browser lets you read blogs and major newspapers
Text to speech reads aloud (eg. while you drive!)
View MS Word and PDF files
Ready?
Watch the video or learn more at Amazon.com.
It's a little steep at $359, but a great tool for the avid reader or road warrior.  The release date is February 24th, 2009.